Frisco management has identified and acquired the Frisco which will produce gold within a year, the Granite deposit which will require two years before production and the Alamo a new discovery which has yielded large nuggets from initial prospecting efforts.
Ready-to-Mine Gold Deposit
The Gold Dome portion of the Frisco property was drilled during 1987-1990, under the supervision of professional engineers and geologists.  Geological maps, drilling records, assay certificates, survey data and metallurgical test results were provided to Frisco.  Assay results from 114 drill holes and 76 trenches were used by independent professional geologist, Robert Flesher to calculate a Measured & Indicated Resource of 25,300 troy ounces of gold in 652,000 tons at a cut-off grade of 0.015 oz Au/ton.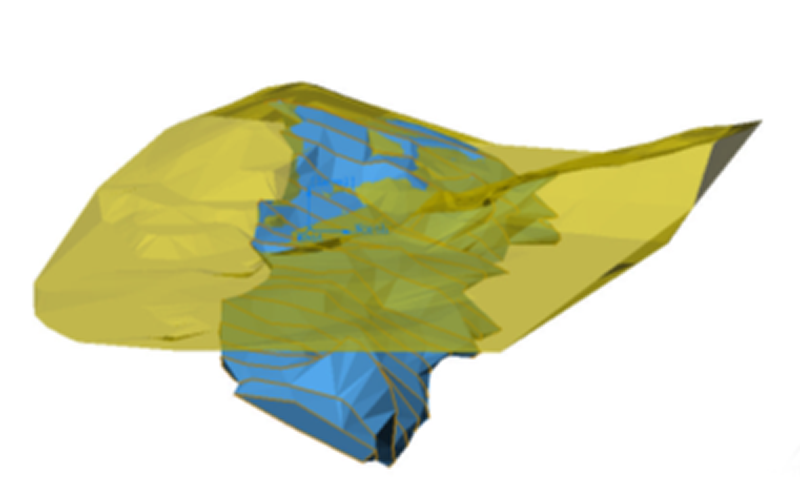 A resource on the higher-grade Gold Crown portion of the property, where historical underground mining was concentrated, was not calculated because of the lack of sufficient drill data. This area remains a prime exploration target.
Ready-to-Mine Gold Deposit
Gold mineralization of economic interest in the Granite zone is contained in pre-Cambrian brecciated gneiss, porphyritic granite and granodiorite in the lower plate of the Black Mountain Detachment Fault. In 1987, drilling by Gerle Gold in the Granite zone outlined a drill-indicated resource of 1 million tons averaging 0. 021 ounces of gold per ton and 0.228 ounces of silver per ton with an average stripping ratio of 0.69:1.
Metallurgical testing by McClelland Labs indicated that samples were readily amenable to direct cyanidation at a nominal 200 mesh feed size with a gold recovery of 92 percent and silver of 70 percent. Additional testing will be necessary to determine the most economic crush size for potential heap leaching.
Although there remains more work to do to properly assess the value of the Granite deposit there are several positive factors.  This granite is softer than the more siliceous rocks found at other operations in the area.  Drilling and blasting will be less expensive, crushing will be easier and less expensive.  The terrain in the vicinity of the Granite deposit is less severe, meaning lower strip ratios and lower cost stripping.  All of these factors would  lead to lower capital and operating costs. 
Exploration Program Focused on the Source of these Large Nuggets
The Alamo is a recent discovery and does not presently have a resource.  The discovery of large nuggets in an area, without known previous production, makes the Alamo a prime exploration target.  The size of the nuggets found (largest is five ounces) indicate very high possibility of significant gold being discovered.  There is considerable work to do to "prove-up" the property.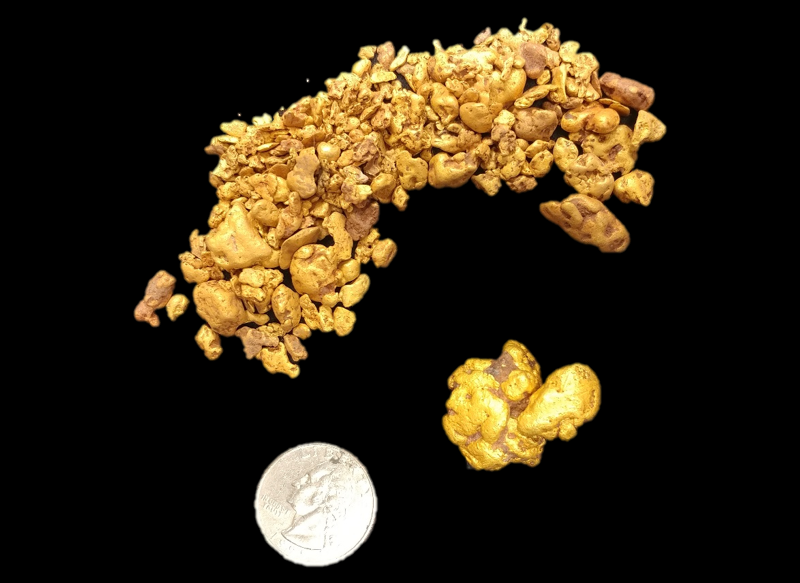 Find out more about Frisco Gold Corporation