Frisco Gold Corporation
Developing gold deposits in Northwestern Arizona
Corporate
Management team with positive relationships and respected track records.
Mining Projects
Moving forward to prodution.
About Frisco Gold Corporation
Frisco Gold was formed to take advantage of the gold that was not mined originally in the 1800's because mining technology was only capable of making money on very high grade deposits, leaving thousands of mineable ounces of gold untouched . The  underground Frisco deposit was mined from the late 1800's until the 1940's but much of the gold remained untouched until rediscovered  by our team of highly qualified engineers and scientists.
Mohave County Mining & Crushing Contractor, Paul Hurns brought the property, along with an extensive data base, to the attention of mining engineer, Joe Bardswich, who immediately recognized the potential for a low cost open-pit, heap leach operation.  Geologist Dr. Bob Thompson and civil and environmental engineer Randy Huffsmith, who had completed mining and reclamation projects with Paul and Joe, were asked to join the team in appraising the property and completing a due diligence review of the available data.
Arizona is the second largest mining State in the US (after Nevada), is very pro-business, and in the words of Arizona Governor Ducey is "moving at the speed of business". The Black Mountains are famous for the Oatman mines but also host the Frisco, Granite, Van Deemen, Portland, and Katherine deposits.  These mountains are the most prolific gold producing range in Arizona having a total past production in excess of 3 million ounces. Mohave County ranks as the second highest gold producing county in Arizona and Frisco believes that it is the most "mining-friendly" county anywhere.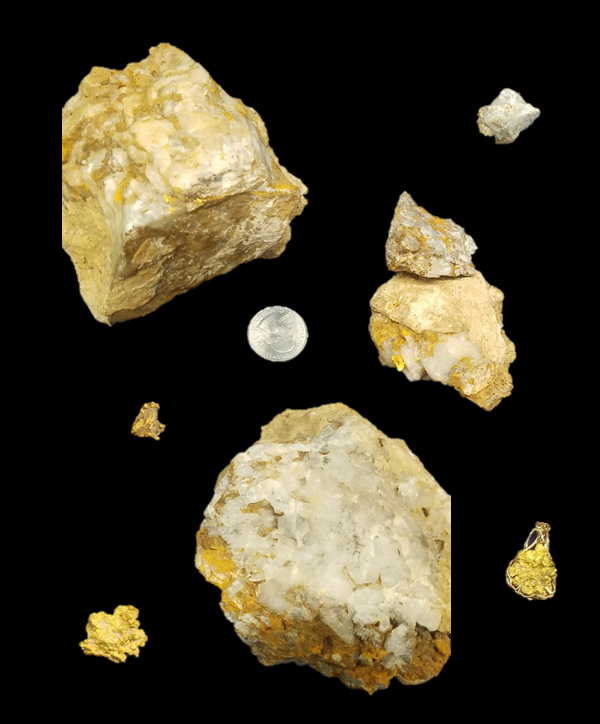 Frisco Gold management has identified and acquired the Frisco deposit which will produce gold within a year, the Granite deposit which will require two years before production and the Alamo, a new discovery which has yielded large nuggets from initial prospecting efforts.
While the team recognizes the potential of the adjacent Gold Crown and the low-grade Granite deposits, the corporate strategy is to initially focus on the profitable mining of the Gold Dome deposit. The Gold Dome is located on patented mining claims (private, fee-simple property) eliminating the need for the sometimes-difficult permitting required when on Federal lands. 
The Gold Dome is a low capex, straight-forward project with an experienced management team with proven track records on similar projects in Arizona.
The team takes pride in their long history of designing, constructing and operating safe, efficient, environmentally friendly projects.
Find out more about Frisco Gold Corporation