NEWS RELEASE
December 3, 2019
Alamo Lease – Option Agreement Assigned to Power Metal Resources PLC
Frisco Gold Corporation has approved the transfer by Carrabba-Nye of the Alamo Lease Option Agreement to Power Metal Resources plc (LON:POW) the AIM listed metals exploration and development company.
https://www.powermetalresources.com/n/n169/arizona-usa-alamo-project-opportunity
Power Metal Resources intends to conduct a due diligence program within 45 days.
Upon successful completion of project due diligence and POW exercising the right to earn in to the Alamo Project, POW will form an advisory committee on which Joseph Carrabba and Murray Nye will collaboratively work alongside POW in the development of the Project.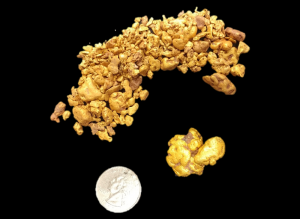 The Alamo property is an exploration stage property on which the initial exploration team of prospectors and geologists had found large gold nuggets utilizing metal detectors.
About Frisco Gold Corporation
Frisco Gold Corporation is focused on the acquisition and development of low-cost gold properties in Mohave County in NW Arizona requiring low capital outlays.  Company principals are professionals with experience in exploration, development, engineering, environmental compliance and mine operations.
The State of Arizona, and Mohave County in particular, was chosen as the focus of the Frisco Gold endeavors due to the rich mineral history and the pro-business climate of the government and the populace.
Frisco Gold Corporation
Bullhead City, Arizona
For further information, please visit http://friscogoldcorp.com
or contact Frisco Gold Corporation at: (928) 234-5227 or info@friscogoldcorp.com